The
Challenge
Volkswagen of America has a network of about 650 dealerships around the country and must present a range of timely information to thousands of personnel in sales, service, parts and corporate management. This information covers Volkswagen vehicles, technologies, programs, processes, news and more. Content must be accurate and easy to update.
It was awesome!

Dan Planz, Volkswagen Technical Training Manager After viewing a Websource custom training module
Our
Approach
Our team conceived and implemented the Volkswagen dealership information portal almost 20 years ago, to replace expensive printed binders that became obsolete almost as soon as they were shipped. We recognized the opportunity to provide a range of content beyond product specs, in an online format that can be easily understood and assimilated by non-technical individuals. The Epsilon XR team brought our understanding of corporate branding and automotive subject matter expertise to address Volkswagen's challenge.

Solutions
Provided
This security-protected intranet portal was an immediate hit among dealership personnel and is utilized by many on a daily basis.
A dealership employee can log into Websource and quickly look up important information for each Volkswagen model:
Features
Selling points
Specifications
Walkaround videos
Trim-level comparisons
Competitive comparisons
Order guides
A "Technology Explained" section lets users review mini-modules that explain dozens of vehicle technologies or features in an easy-to-comprehend "What, How, Why" format. An "Awards that Sell Cars" section highlights the latest positive press and awards from third-party sources. A "VW Dealer Careers" application is a recent addition that allows dealers to effectively search for qualified employees and job seekers who have submitted their resumes and created profiles. This user-centered format was so successful that Audi of America tasked us to create their own version of the careers site.
Periodically, we analyze the site and survey users, informing regular improvements. A recent redesign updated all content to be accessible via mobile devices.
The
Results
For almost 20 years, the Epsilon XR team has hosted, maintained and created content for Websource. Through regular contract renewals, Volkswagen has demonstrated their reliance on Epsilon XR as a trusted partner for this essential communication tool between VW Corporate and its dealer network.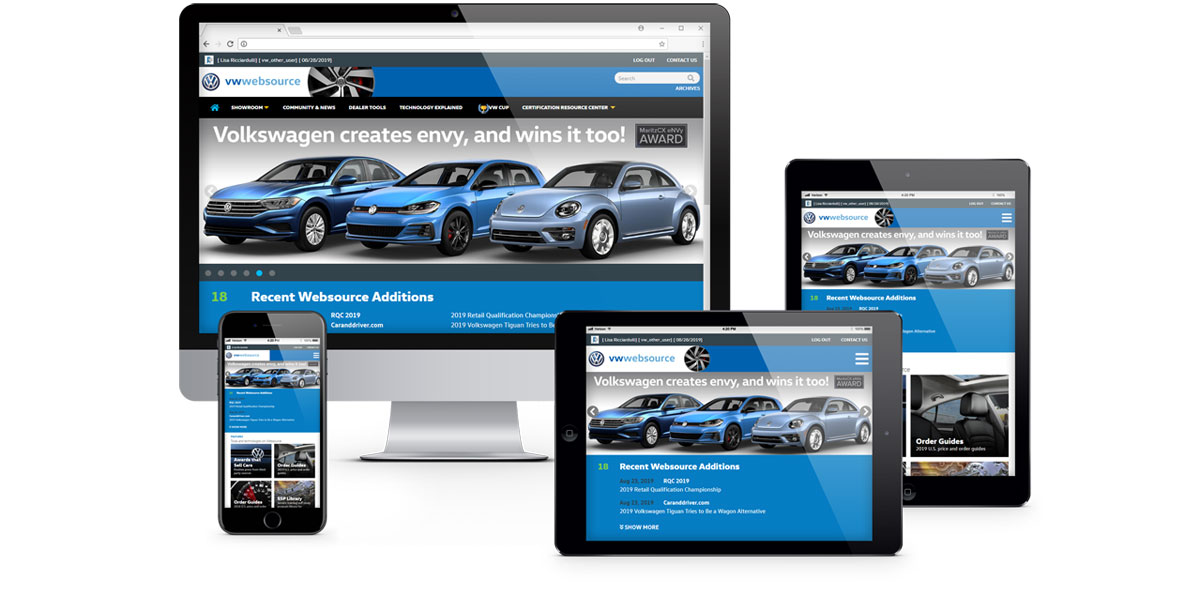 Applied Services and Skills

Analysis

Custom Training Equipment

E-Learning Development

Electronic Classroom

Instructor-LED Training

Knowledge management
Performance Support

Simulation and Virtual Reality

Software Development