The
Challenge
In the early 1990s, many companies were struggling in a new regulatory arena: Environment, Health and Safety. One large international aerospace manufacturer encountered severe compliance challenges, and created an EH&S organization, with a focus on becoming a world leader in compliance. They called in members of the Epsilon XR team (under another umbrella) as part of their software team to devise an innovative and comprehensive enterprise-wide Windows-based system to match their goals.
The challenge was to balance diverse requirements and produce software that can be deployed globally, is easy to use/consistent in navigation, and fits varied scenarios ranging from the very detailed needs of an EH&S professional to the limited requirements of a shop floor supervisor.
As web technologies surfaced, expanded around the globe and across multiple divisions of the corporation, a further requirement arose for online access and easy setup of new facilities and multiple languages.
Great program! Overall product rating: Five stars out of five.

Waste Program Manager, Large Aerospace Corporation
Our
Approach
Epsilon XR team members worked jointly with corporate SMEs and IT specialists to develop a custom solution – at times side-by-side at their facility. Balancing varying opinions, we designed a cohesive set of features to satisfy all, maintain flexibility for diverse facilities, yet be easy to set up and administer.
Knowing the product would eventually be commercially available, we carefully isolated company-specific requirements that would not be universally required.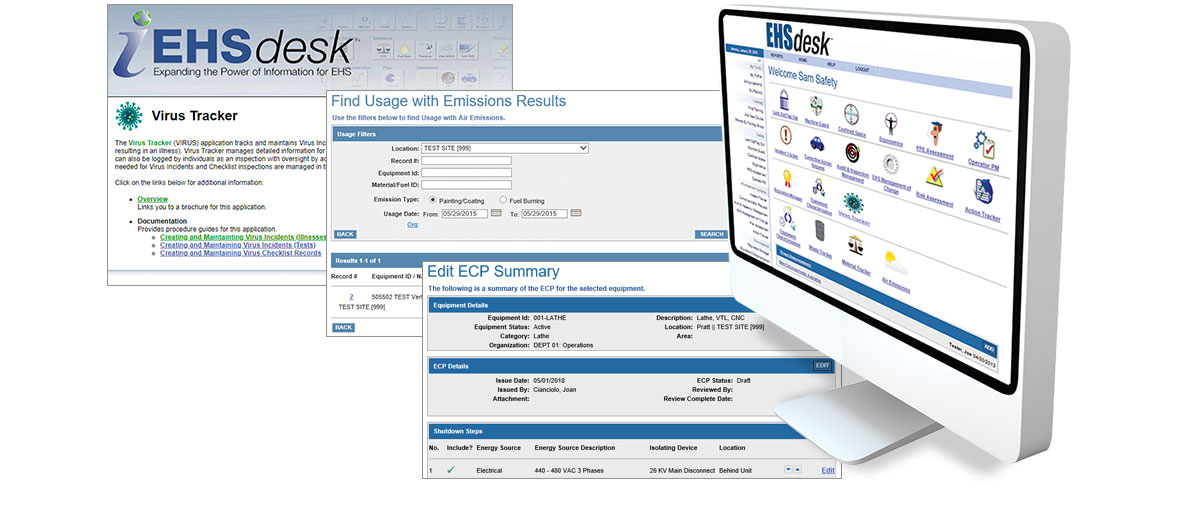 Solutions
Provided
These efforts resulted in development of a world-class software product. EHSdesk can be quickly implemented for any client, and allows them control over the default content without Epsilon XR assistance.
Web EHSdesk offers a hosted/internet solution, now available in French, Chinese, Hebrew, and Polish. Web EHSdesk provides 22 modules that cover all aspects of EH&S. It is scalable for a small organization with limited needs up to its current deployment worldwide across over 200 facilities, 7,500 users, and multiple large aerospace manufacturing companies.
Unlike many software products, a core value of EHSdesk is its help documents, which are process-based and designed to guide people relative to their role. Some modules have self-guided tutorials with videos. Deployment of the software worldwide without the need for costly in-person training has been supported in a large way by the stellar help documents and skilled Epsilon XR staff conducting online training.
Recently, the EHSdesk team developed a robust module for virus tracking. This tool allows administrators to securely manage detailed information on illnesses and tests, and includes an inspection oversight checklist.
The
Results
EHSdesk is a powerful, sophisticated tool that facilitates compliance to country-specific regulations and corporate policies – a system ahead of its time that has become embedded in corporate culture. The software is integrated and secure (unlike multiple Excel spreadsheets or Access databases), accessible on any browser, and in use enterprise-wide. Management practices can be followed at all locations through the commonality of the software. Its ease of use and user guidance allows new hires or relocated employees to get up to speed quickly, minimizing the need for costly training. It enables a more successful audit – proof of data integrity is at the user's fingertips. All of this allows EH&S staff more time to engage in proactive measures that improve compliance and business performance.
Applied Services and Skills

Analysis

Custom Training Equipment

E-Learning Development

Electronic Classroom

Instructor-LED Training

Knowledge management

Performance Support

Simulation and Virtual Reality

Software Development