The
Challenge
As part of the Navy's Ready Relevant Learning (RRL) initiative, four administration rate A-school courses were identified for conversion and/or revision. Epsilon XR was part of a multi-company team tasked with designing and developing the instructional media component of a blended learning solution to meet RRL goals and provide emulation of administrative tasks within appropriate limits.
A blended learning solution with software simulation and completion tracking.
Our
Approach
With our experience in delivery of blended learning solutions for Waterfront Training and the Submarine training base, the Epsilon XR team was tapped to lead design and delivery of the content container/wrapper for the Virtual Simulation (VSIM) modules. Epsilon XR brought critical e-learning expertise to the development and deployment processes. We designed and developed blended learning instructional media and practice exercises to satisfy the instructional objectives for the courses. Intense coordination between the media developers and the curriculum revision team was necessary to ensure instructional validity of the developed media.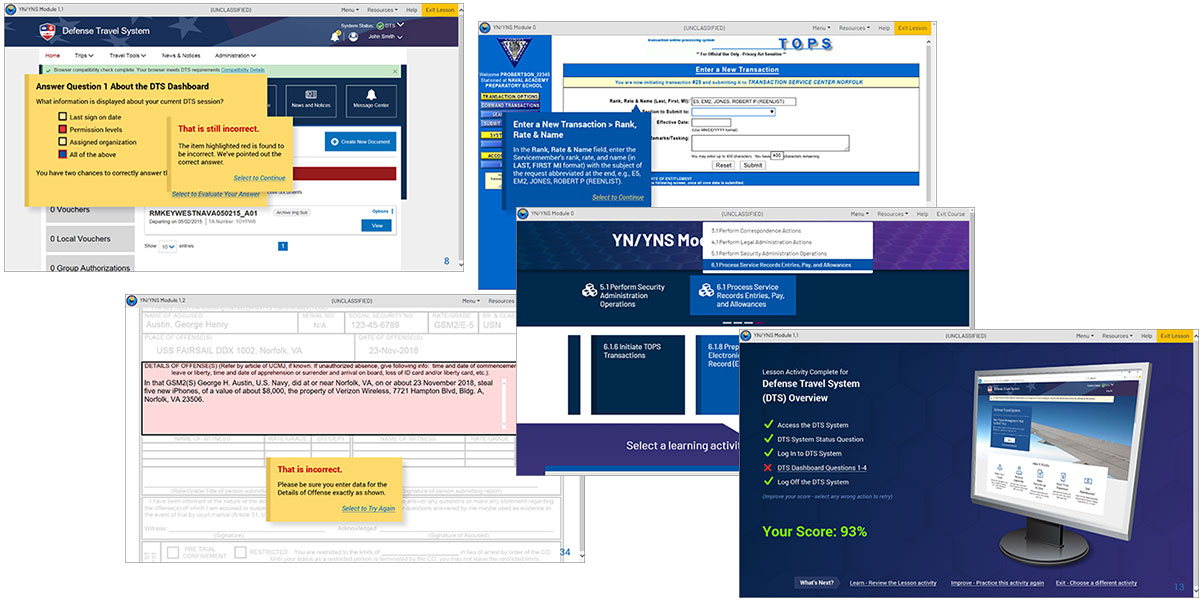 Solutions
Provided
Training topics included form completion, correspondence generation, award certificates, and personnel actions using web-based software. We delivered three VSIM modules containing a total of 116 content activities covering 58 topics. Each topic was designed to provide additional detail and practice for selected skills covered in the three modules.
The activities were packaged in a SCORM 2004 4th Edition conformant container that visually indicated activity completion for each user. Per Navy e-Learning (NeL) standards, activities and the full course content were tracked and reported as complete or incomplete.
In addition, we provided a Developer's Guide and templates to support lifecycle management of this effort and to provide a framework for future development of similar courses.
The
Results
At time of this writing, the courses are in Pilot phase. Initial feedback from reviewers has been positive, and it is anticipated that the VSIM inclusion in the courses will provide targeted practice for important or critical job skills.
Applied Services and Skills

Analysis

Custom Training Equipment

E-Learning Development

Electronic Classroom

Instructor-LED Training

Knowledge management
Performance Support

Simulation and Virtual Reality

Software Development