The
Challenge
Directives on COVID vaccination and testing have evolved quickly since vaccines became available in December 2020. The latest government guidance calls for large groups of employers (more than two-thirds of the workforce by some estimates) to either require employees be vaccinated or provide weekly negative COVID testing results. The corresponding need for data management went from "how about a spreadsheet" to a pressing desire for software fast!
How will companies turn this complex task into a manageable solution in a timely manner? How can Human Resources keep on top of the vaccination status of their employees?
Meeting emerging COVID requirements has been complex. We were pleased with the adaptability of Virus Tracker to keep up, allowing for data re-categorization and uploaded vaccine card images.
Our
Approach
Epsilon XR team members worked jointly with corporate SMEs and IT specialists to re-purpose Environment, Health, and Safety (EH&S) best management practices to meet the COVID data challenge. Tracking COVID cases and hazards has much in common with managing EH&S incidents and hazard inspections/assessments. The method to gather this data must be easily accessible for all to meet the new rules efficiently.
COVID data management is not only about tracking employees who have been exposed, get sick, and require quarantine. The solution needs to include up-to-date vaccination and testing status. Further, a full accounting of every employee/on-site contractor is needed to identify the population that will require weekly COVID testing.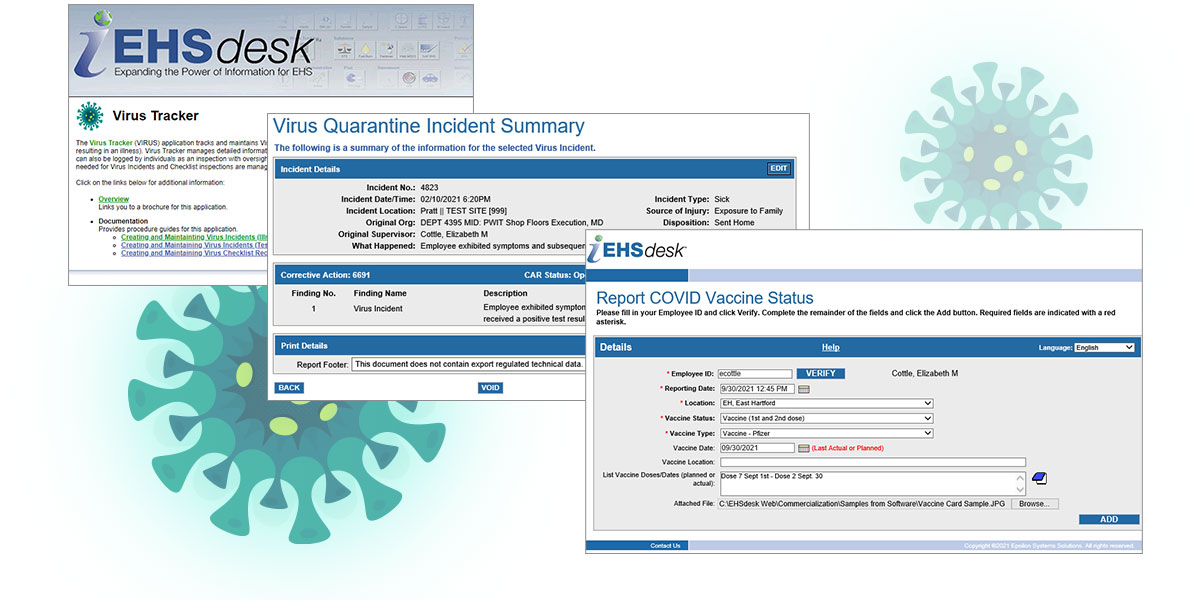 Solutions
Provided
The original virus data management solution has been improved with four vital upgrades:
Flexible categorization for both testing and vaccination records.

The vaccinated categories are expanded to Fully Vaccinated, Plans to Get Vaccinated, and Does Not Plan to Get Vaccinated (requires testing).
A process to detail/approve/reject religious and medical exemptions can be documented.

File upload of vaccination records and test results are available upon initial creation of the virus tracking incident for efficiency.
Self-reporting: HR departments were already overloaded before vaccination status had to be documented. This additional requirement led to development of an innovative self-reporting capability.
Case Updates: Much like ongoing illness recordkeeping required by OSHA, now COVID data can be updated with a vaccine card image, manager approval, and booster shot record.
The
Results
EHSdesk Virus Tracker is a powerful, sophisticated tool that facilitates compliance with local, state, and federal vaccine/testing guidance. The software is integrated and secure (unlike multiple Excel spreadsheets or Access databases) and accessible on any browser. Management practices can be followed at all locations through the commonality of the software.
The Virus Tracker (VIRUS) application tracks and maintains virus incidents (quarantine, tests, vaccines, and hazard reports). Virus Tracker also can manage virus inspections (for screening questions or weekly testing) and exposure hazard assessments.
The latest upgrade allows for self-reporting of vaccination status (with file upload) by any person listed in the database. A COVID hazard can also be self-reported, anonymously if desired. Application users have the ability to log a test (with file upload), utilize additional categorizations, and can edit closed incidents. Reports can filter in or out terminated employees, as the metrics produced over time may need to deal only with active employees.
Using the upgraded Virus Tracker software will help companies efficiently document employee COVID status to meet vaccine/testing mandate deadlines.
Contact Program Director Elizabeth Cottle for more information about Virus Tracker.
Applied Services and Skills

Analysis

Custom Training Equipment

E-Learning Development

Electronic Classroom

Instructor-LED Training

Knowledge management

Performance Support

Simulation and Virtual Reality

Software Development